This is my first blogpost from my new iPad. Very compact and great for traveling. The only thing is, I can't upload photos directly to blogspot, or even to Facebook. I have to use photo bucket and paste a link in order to see the image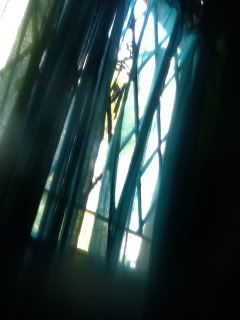 The above shot is just a random one of the bedroom window, to test how the pasting of the code works. I'm sure there's a more direct way. I'll figure it out.
There is also an app for uploading images to fbook. Everything is 'an app'. Why not just keep it simple and direct? Oh well, anything to get consumers to spend . . .
The other thing is, safari browser doesn't allow me to blog in compose mode, only in HTML mode. Too confusing for me when it comes to changing font, etc . . . Certain things will take getting used to. So, in time to come, the blog posts you get from me may be quite basic,as I will be traveling and using my iPad.